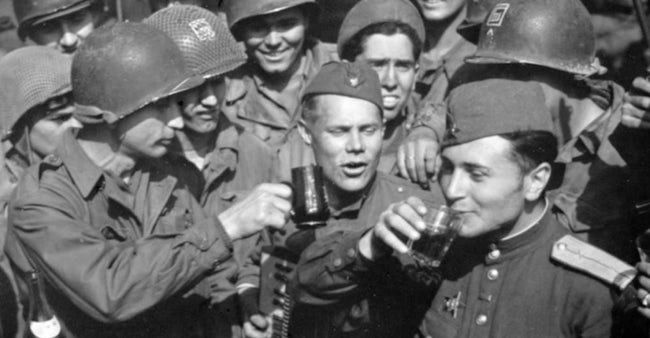 Welcome to this exciting endeavour that the Kimbolton School History Department is undertaking: Project 1945!
2020 marks the 75th anniversary of the end of WW2, a time of both celebration and remembrance. VE & VJ Day recognised the end of war, a moment of peace, as well as the scale of bloodshed and destruction experienced by those alive in 1945. They come from a generation, who, for some, had experienced the horrors of total war twice in their lifetimes.
The current COVID-19 pandemic and lockdown means that many events of commemoration cannot be held as publicly as many would like. Nonetheless, it is a perfect opportunity for us to connect with elderly relatives/friends who were alive at the time of VE/VJ day. It is our hope to build a real treasure trove of stories, experiences, photos and memories, to strengthen our understanding of just what it was like to live when such devastating warfare ended.
Over the coming weeks and months, we invite you to speak to relatives and friends who were alive during WW2, and ask them what the end of WW2 and VE/VJ Day was like for them. Collect these memories, record an interview with them, even ask if they have any photos from the time, and (with their permission) please share them with us. And if you were alive, yourself, during 1945, please send us anything of interest regarding the end of WW2 or VE/VJ Day, and/or your experiences of this, whether it be in home, school, family life or anything else at all. Almost everything is welcome, and those contributing do not have to have served in WW2 in a military capacity, we would love to hear from all people, including civilians, who experienced events of the time. Funny or interesting stories are also allowed too!
As we face one of humanity's greatest peacetime challenges, lockdown allows the whole Kimbolton community to dip into past and commemorate 75 years of peace. And in the same spirit of keeping in touch with the elderly and vulnerable during this time, we can learn what 1945 meant for a generation that faced one of the greatest wartime challenges.
We will be filling this blog regularly with all the memories, first-hand accounts, photos and other exciting items collected. For more information about what you may wish to ask about/contribute, click here. If you have any other questions, please see our FAQs.
Please email anything you do collect to Mr Sam Knell, at srk@kimbolton.cambs.sch.uk, who will upload it to the collection.
(nb. contributions may be edited for length, clarity and/or grammar, though we intend to keep these as minimal as possible)